Now that I'm home, I have been busy unpacking things and finding appropriate places. I went to bed last night with decorating dilemma and wanted to see what you geniuses thought. Watching your creativity's in your blogs just makes me dazzled with the possibilities!
I have a picture of my formal living room. It is of the bookshelves and the TV.
However, the problem enlies with the soaring vaulted ceiling wall above it. See!
WHAT, do I do with THIS? I was thinking tapestries, but that makes me feel old. I was thinking plate wall (Thank you Kim for you post!) but our furniture has a more "English Study" feel to it. We LOVE rich dark wood and our chocolate leather couches.
Adjacent we have a fireplace with 2 tall windows.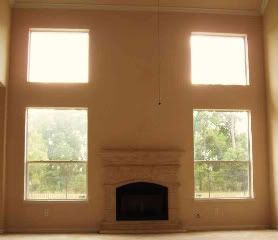 This is what we have so far but again, we have a wall and windows needing some love.
Thank you in advance!